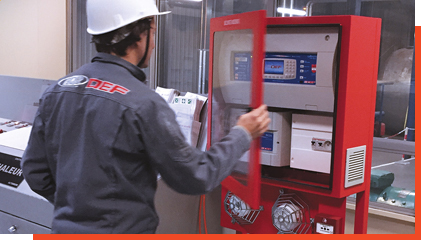 Provisional detection
FIRE Temp, a temporary fire detection solution, was designed to secure the sites during the construction phases: periods involving major risks of blaze outbreaks, often with significant financial consequences due to equipment damage.
The FIRE Temp system consists of a frame carrying an addressable SSI panel and a box for sending alarms and fault reporting by SMS or email. It is based on radio technology, which combines flexibility and simplicity for optimal positioning of detectors on the work site.
The fire safety on request is set up just like a car rental service!
The FIRE Temp solution is:
A robust, mobile, and connected system
A dynamic system, which adapts to the progress of the construction phases,
A system that covers surfaces under construction and/or premises with specific risks,
A set of services that guarantee a functional level of the system throughout the duration of the project (management of equipment malfunctions and fouling),
A flexible solution in the form of a monthly service contract, making it possible to secure the site only during the targeted periods.