Recommended solutions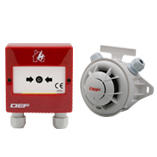 Gamme nucléaire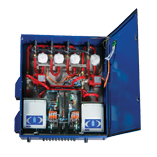 PHENIX PP
Baies et coffrets
Détection par sonde thermique
Détection linéaire de température
Nuclear range
– Products certified for nuclear application
– Special testing and traceability process
More information
To ensure product longevity and reliability under extreme conditions, the nuclear authorities have recognized DEF's products and solutions through seismic, irradiation and ageing qualification.
In addition, equipment for nuclear application are subject to specific testing, rigorous controls and final adjustment on our dedicated integration platform, before being sent to site for installation. Finally, another series of tests is performed on site, during commissioning, to confirm the equipment's performance and alignment with initial specification requirements.
Phénix PP redundant aspiration system
– Product certified for nuclear application
– Redundant system
More information
On premises exposed to radiation, aspirating smoke detection has proved to be particularly effective. Capable of earlier detection compared to a localized detector, its operating principle of transporting the smoke to a remote analytical chamber separates the electronic circuits from the irradiated areas. The air sample is then sent back to the contaminated areas.
The Phénix PP system includes two Phénix aspirating smoke detectors which are functionally independent and operate in redundancy to ensure uninterrupted smoke detection.
Special bays and cabinets
– Installation by our own teams
– seismic qualification
– Pre-tested on our dedicated platform
More information
To satisfy specific requirements (particularly seismic) associated with the use of our bays and cabinets in nuclear and industrial environments, the DEF Network has set up a dedicated team who specialize in certification, integration, testing and packaging of that equipment.
The Mimic Panels (also known as Synoptic) are report tables that notify emergency response teams of the presence of a fire in or around the affected area. If allowed by local regulations, optional features are available to incorporate fire protection control switches. The diagrams' Lexan is based on the blueprints of each building and includes a status LED light for each monitored area.